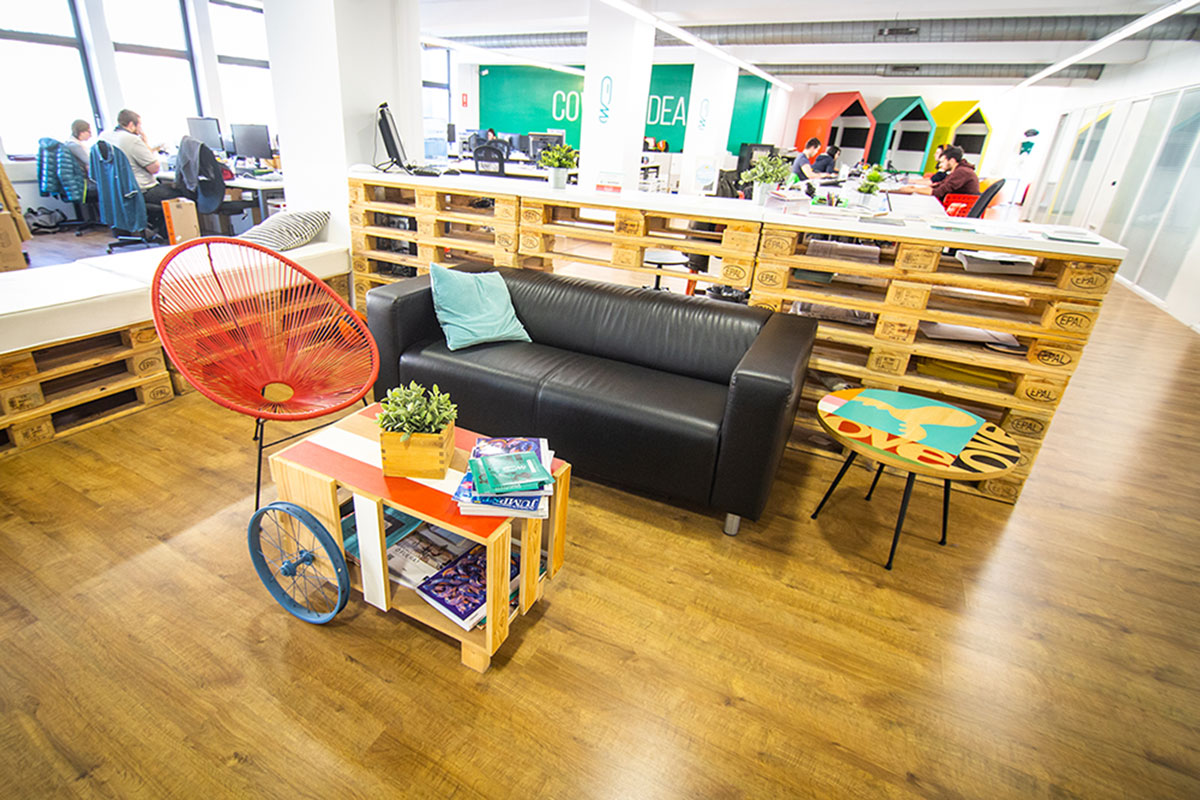 7 things you didn't know about Coworkidea
14/07/2020
Coworkidea was born almost 9 years ago
When we launched the Coworkidea project, the "coworking" concept was just beginning to resonate; this idea that spoke to us of a new work philosophy was still quite unknown, specially in Spain. Who was going to tell us that coworking had come to stay, settle and grow in the way it has. We live all this process from the beginning; we opened a small coworking for about 20 people with doubts and uncertainty during all the first year and a half. The following three years the community grew and settled until we could grow and open the second space, already a little bigger, in the same building.
The idea was born as a result of the economic crisis of those years.
Do you remember the economic crisis of 2009? Like many other people in Spain we also find ourselves in a time of labor difficulty. But as Einstein said "the best ideas arise in times of crisis" and also "without crisis there are no challenges". And so it was that having lost our job, we decided to undertake on our own: this new way of work sharing reached our ears and we were excited by the idea, above all because of the possibility of collaboration with other professionals, so we decided to set up a coworking space in central Barcelona with natural light and fully equipped!
It is a coworking of "coworkers"
As we were saying, the first space opened doors in 2011. It is a relatively small space, designed for about 20 people and with the aspiration of creating a place of collaboration between them.
In the following years Coworkidea proved to be an effective means of creation and occupation, since it responded to the need for small entrepreneurs, freelancers, professionals, freelancers to start or continue their professional activities.
Five years later we opened the second space in the same building. We offered the coworkers who were with us at that time to associate to participate in the expansion of the Coworkidea project, and three of them said "I DO". That is why we like to say that Coworkidea is a coworking of coworkers. The truth is that we are very proud of the whole community that Coworkidea has, wonderful people with «a special DNA«
We are Happeners
Our coworkers want to separate their work life from home and have their own space to increase their productivity. Generate routine, have a real working environment with colleagues and professional opinions.
They also feel that their career can take off at Coworkidea; the energy of the place and the synergies help them to improve. Seeing coworking not only as a personal and professional improvement investment, but also to be able to meet professionals and friends, share ideas, receive feedbacks and generate work synergies.
To strengthen the human side, the Happeners concept was created, in order to identify coworkers and associate them with Coworkidea values, generating union and promoting collaboration between them.
Professional and personal synergies.
As we have verified 65% of the happenners collaborate or have collaborated at some point, which has allowed them to work on larger projects either as their own or as collaborators.
We also love to share not only work but also fun moments, because that is when there are more personal connections. For this reason, we organize group activities in which happeners can get to know each other and become part of a true community, among which sports are not lacking: during the summer we play beach volleyball one day a week, and from october the star is the annual paddle tournament, we really enjoyed it.
We have meeting rooms by the hour.
We are not only a Coworking space, but we also have meeting rooms that can be rented by the hour. We also have a favorite one! It is a workshop and training room with a capacity of between 20 and 35 participants.
Should you meet someone and you don't know where to do it? A cafeteria is not always the best option. In one of our meeting rooms you will have calm and comfort in a beautiful and inspiring environment.
We also have a chillout.
The workspace is an integral concept for us. Take a break in our common areas or enjoy our "chillout" space. You can rest on a sofa, have a drink, or even play the guitar! We want our spaces to be an inspiring place where you and your team can comfortably carry out your work.
Our location
We are in the full center of Barcelona although it does not seem so because of the tranquility of the area and for being wide, with trees and with hardly any traffic. Plaza Castilla, where we are located, is also ideal for its atmosphere (a few steps from Calle Tallers, next to the University and the La Blanquerna library; an area known and filmed by skateboarders), leisure and cultural ( MACBA and CCCB). We are surrounded by endless bars and restaurants (vegetarian, mediterranean menus, fast food, tapas) where you can eat and also enjoy after work on the terraces in the square. From Coworkidea you can also walk to Calle Pelayo in a few minutes, on whose sides Plaça Universitat and Plaça Catalunya are located.
If you are a freelancer or if you have a company with no more than 6 workers and you think you have Happener DNA, come to Coworkidea!