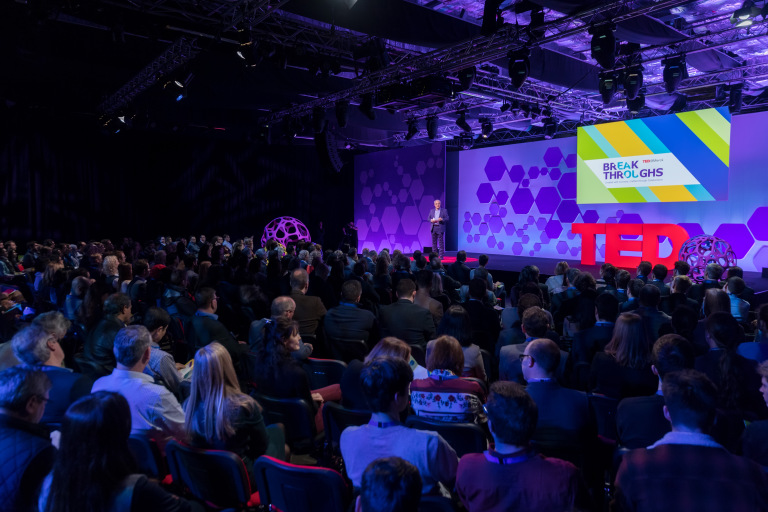 The best TED Talks for entrepreneurs
07/12/2017
TED Talks (technology, entertainment, design) are everyday more and more famous all around the world. Usually these conferences are speakers' experiences told in a learning story way. The speakers expose their personal experiences in order to change attitudes, lifes and maybe in a long-term, the world (who knows!).
The conference cicle TED is presenting ideas worthy to be spread and some of the most known conferences have been explained for hosts like Bill Clinton, Larry Page, Steve Jobs and a wide number of Nobel Prize winners. But many conferences made by anonimous speakers have been very successful as well. Today, from Coworkidea we make a compiling of some TED Talks we think are very worth to be watched:
Rory Sutherland: Life lessons from an ad man
The advertising guru Rory Sutherland is the vice chairman of the Ogilvy Group (one of the biggest advertising agencies of the world). He believes that maybe we would be better off finding the benefits in what we already have. He speaks about the behavioural economy and about how much the intangible value can deeply affect in the opinion (and afterwards in the decision of buying or not), everything in an humorous but also illuminating presentation.
Simon Sinek: How do great leaders inspire action?
Simon Sinek believes that people don't buy what "you do" but "why you do it". He is an author, motivational speaker and strategic communications professor at the University of Columbia. Sinek defines a powerful and very inspiring leadership model which starts with the "golden motivation circle" and the question is: "Why?".
Dan Ariely: Do we have the control of our own decision?
Ariely explains us how the decisions we make are not just inevitable, they are extremely predictable.  Dan Ariely is a behavioural economy specialist, professor and author. He tells us the surprising results of his own studies to prove that we are not that much rationals as we think (when we take decisions), and he explains it making considerations about what do we really want would we really want to decide.
Seth Godin: How to spread your ideas
The marketing guru and author, Seth Godin, explains us why when we want to attract the atention and to create a bigger audience, the bad or weird ideas are the most successful. Godin has published almost twelve best-sellers, being the following some of the most famous: "Purple Cow: Transform Your Business by Being Remarkable"; "All Marketers Are Liars"; "Linchpin: Are You Indispensable?" and "Poke The Box". The idea is to be extraodinary, because the certainty can be a risk. To be very good at something and taking refude in this idea is not the best thing we can do, because for almost all inventions of the human history, the invention itself hasn't been the key, a good spread and communication has made it happen.
Tim Harford: trial, error and the God complex
Unilever (owner of 400 brands including Dove, Lipton, Becel, among others) hired some of the best engineers in the word to design the perfect mouthpiece for a clothing detergent. None of them could hit the target, and so they decided to use the trial error method. They created 10 mouthpiece types and chose the one which worked the best. After 45 generations, Uniliver developed the perfect mouthpiece for dispensing the clothes detergent without having any idea of why that one was the one which works the best.
In this TED Talk, the writer Tim Harford, studies complex systems and finds that the most successful ones used the trial error method. He reminds us the quote: "Ever tried. Ever failed. No matter. Try Again. Fail again. Fail better", and this is what Harford asks entrepreneurs, to start failing as soon as possible and to do it a lot because every success starts with a failure.
Steven Johnson: where good ideas come from?
Steven Johnson is an author of 7 books which became best-sellers, all of them a mix of science, technology and personal experiences. Johnson's book "Where Good Ideas Come From: The Natural History of Innovation" goes deeper on the topic presented in this TED Talk. Entrepreneurs have a tendency in attributing to themselves their brilliant ideas, but Johnson explainsus why it isn't so easy to heva truely successful ideas and making them reals.
Cameron Herold: Let's raise kids to be entrepreneurs
Cameron Herold thinks that the weekly pays just teach kids wrong habits; usually, these habits teach them to wait for a regular pay, something that entrepreneurs will hardly receive. Herold has 2 kids and they don't receive any weekly regular pay, he taught them to walk in their garden searching for something that needs to be done and then to negotiate the price. In his TED Talk, Harold defends a new model to educate girls and boys in a more natural way, which will help us raise our kids to be potential entrepreneurs.
Cameron Herold is a real entrepreneur. He has been creating businesses since he was born – and then he created es 1-800-GOT-JUNK – and now he trains executive presidents worldwide. His book "Double Double: How to Double Your Revenue and Profit in 3 Years or Less" was launched last year and it is a great guide to create step by step your business.
Jason Fried: Why we don't work in the office?
Lately, the office is seen as something stressing, full of evies, toxic meetings and thousand urgent things to do. So, the act of working is associated with having "not very good" experiences. That's why Jason Fried believes that the office is not a good place to work. In his TED Talk he explains us these problems at work and suggests us 3 solutions to solve it.
Jason Fried is the co-founder and president of 37signals, a company that created web based productivity tools. Fried and David Heinemeier Hansson wrote the book REWORK, about new ways of conceptualize the work and the creative process.
Daniel Pink: the puzzle of motivation
Societies tend to habits, but many of hem aren't usually not the best option. It is the case of motivations and rewards. We have the habit of motivating or rewarding in a very concrete and traditional way (money, for example), and maybe we are not analyzing enough something very basic for a company to work efficiently.
Daniel Pink best-sellers author, journalist and ex main editor of the Vice President of the United States Al Gore's speeches. If you enjoy Pink's TED Talk, take into a count two of his books:"Drive: The Surprising Truth About What Motivates Us" and "The Adventures of Johnny Bunko: The Last Career Guide You'll Ever Need."
Hope you liked the article and you got inspired by these TED Talks 🙂