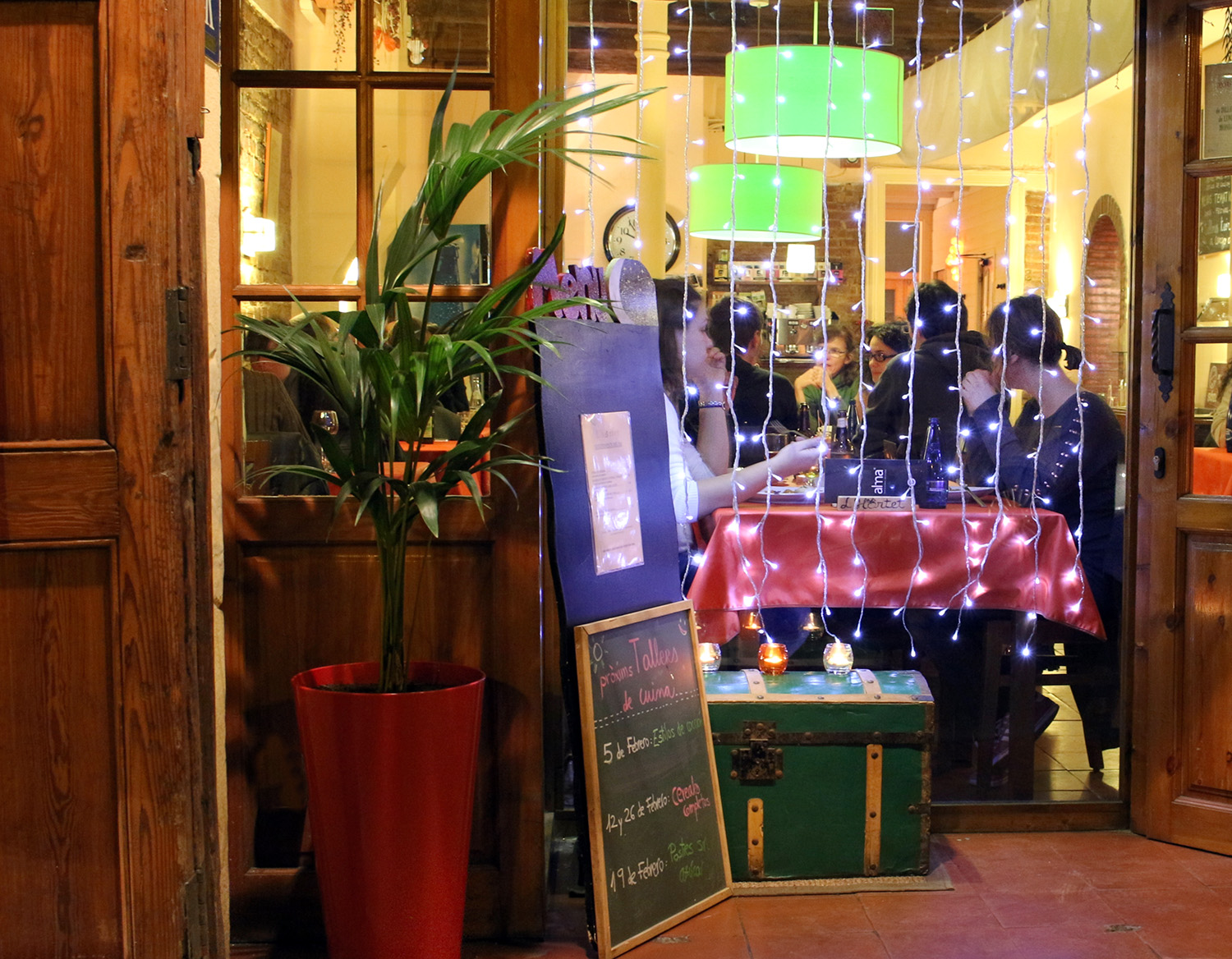 The 22 best restaurants near Coworkidea
02/11/2017
In Coworkidea, we love our unbeatable location in Barcelona centre, between Plaça Catalunya and Plaça Universitat. We're next to MACBA and CCCB, with a great number and variety of culinary options around us.
Where to find delicious food near our space?
Today we want to share the happiness and pleasure of eating well, and that's why we have listed some of the restaurants near Coworkidea that we like and frequent the most. We have included some other restaurants and cafeterias that we don't frequent so much but are also great. Check out the map at the end of the article for locations and the distance to the Coworkidea.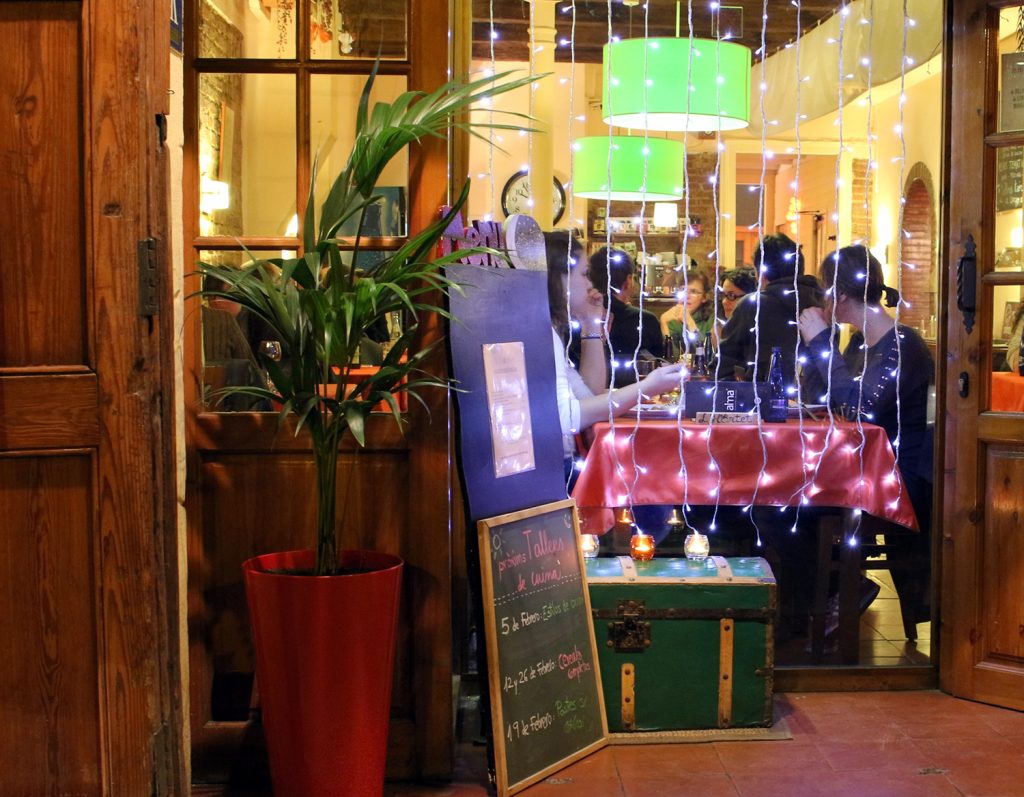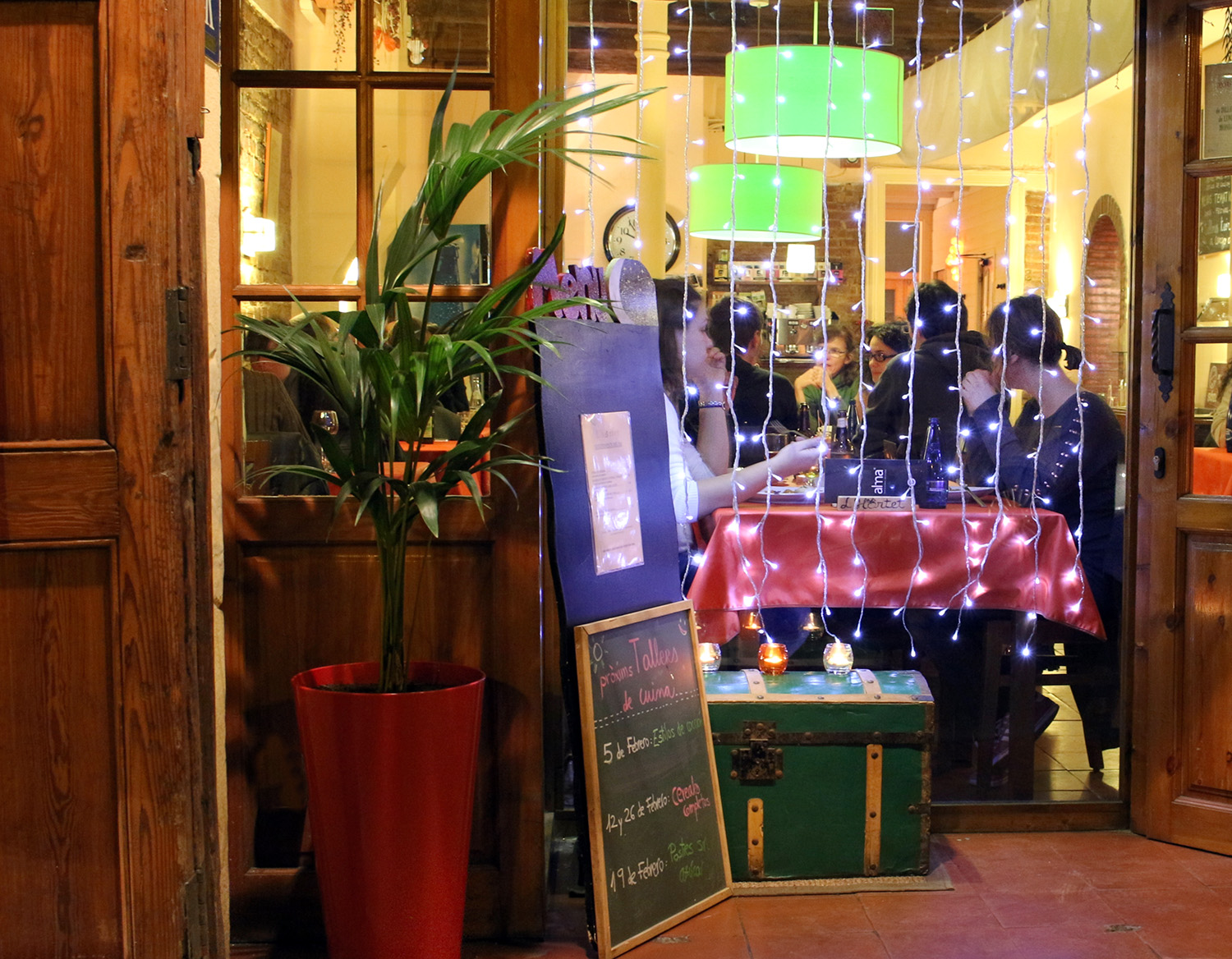 Vegetarian Restaurants in Raval
The vegetarian and vegan options have been growing recently in our neighbourhood and centre of the city, el Raval. Nowadays there is a wide gastronomic variety near our space, with some of the best restaurants of the whole city.
Teresa Carles

: famous restaurant for its delicious vegetarian menus, that always include vegan options, accommodating all types of intolerances and allergies. If you have a bad day, Teresa Carles' menu will definitely make you feel better.  Address

:

Carrer de Jovellanos, 2

. Phone: 933 17 18 29

.
L'Hortet:

its fame is growing day by day, and that's not accidental. They are serving delicious eco food of a high quality and also something very important: you can take away your menu and eat it at Coworkidea in case you don't have much time. Address

:

Pintor Fortuny, 32

. Phone: 933 17 61 89.
Flax & Kale

: from the same owners than Teresa Carles, this restaurant is their gourmet version, with amazing dishes and also a lunch menu. It is right in front of our building. Address

:

Carrer dels Tallers, 74B

. Phone: 933 17 56 64.
Veggie Garden:

this vegetarian restaurant offers generous tasting dishes to share and delicious vegan burgers. Address

:

Carrer dels Àngels, 3

. Phone: 931 80 23 34.
Restaurant macrobiòtic Zen

: for the lovers of the macrobiotic food, this is YOUR restaurant in the centre of Barcelona. It also has its own store. Address

:

Carrer de Muntaner, 12

. Teléfono: 934 54 60 23.

Vegetalia Raval:

quality vegetarian restaurant with a charming terrace. Address

:

Plaça d'Emili Vendrell, 1

. Phone: 934 41 48 76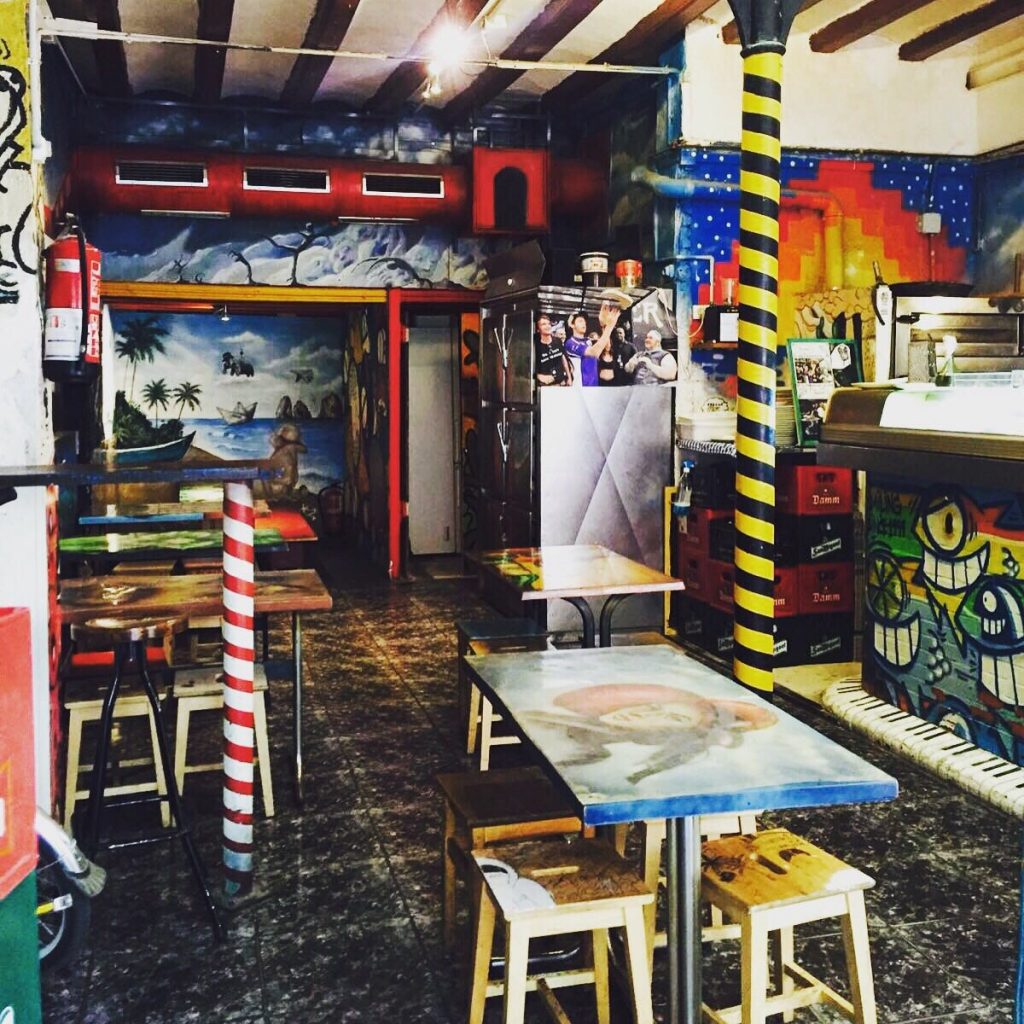 Fast food in Raval
Though we like to enjoy a leisurely meal with a starter, main dish and dessert, sometimes we don't have time to be eating more than an hour. For these kind of days, the sandwich places, pizzerias and fast food restaurants are the best option. These are some of the favourite fast food spots for our #happeners:
Viena

: this famous chain company is producing their own products and this can be appreciated in every meal. Though it might seem just a simple sandwich and fast food place, it has a long history or delicious recipes. (its "coca de pollo" is a classic one) Address

:

Carrer de Pelai, 16

. Phone: 933 17 06 00.
Subway:

also a well known fast food chain company, it has a wide variety of sandwiches to take away, for those with hurry. Address

:

Carrer de Pelai, 3

Phone:  934 43 81 77
Muccis:

this bar and restaurant in the end of Tallers street is famous for its empanadillas, pizzas and delicious, complete salads. Address

:

Carrer de Valldonzella, 1

Phone: 933 04 08 14.
Pizzería Bar Pepe:

without doubt, the best pizza of the whole Raval. For lunch they offer thick dough portions and in the evening thin dough ones. Address

:

Carrer de Valldonzella, 36

. Phone: 934 12 23 24.
El Club de la Hamburguesa:

this burger bar has a wide menu with many burger options, all of them delicious. Address

:

Carrer de Valldonzella, 3

. Phone: 933 18 10 26.
Restaurante Narim:

for the Kebab lovers this is a high quality option very recommended in the very centre of the city. Address

:

Carrer dels Tallers, 80

. Phone: 933 01 90 04.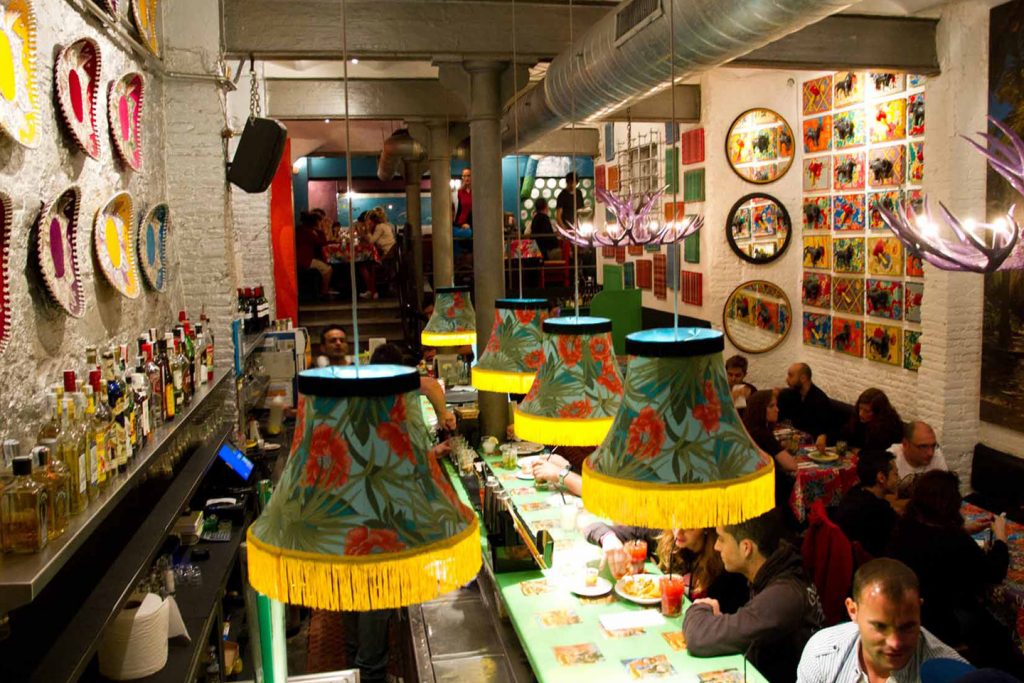 Cheap menus in the centre of Barcelona
To go and eat out is not always very cheap, but many of these restaurants and bars we like so much around us have nice and cheap offers. Some of the good menus you can find for 10-12€:
Bar Fidel

: very much famous for its amazing and original sandwiches, this bar has also a unique dish lunch menu, excellent and very complete. Address

:

Carrer de Ferlandina, 24

. Phone: 933 04 14 39.
Lola & lo:

we highly recommend the "pastrami sandwich" and its half menus (very complete and delicious). Address

:

Carrer de Valldonzella, 52

. Phone: 933 02 86 50.
Canela Restaurant:

Mediterranean style food with a wide variety with a nice environment. Address

:

Carrer d'Aribau, 16

. Phone: 933 17 79 47
Blat Net:

this restaurant in the very centre of the city offers a menu 100% home made, very complete and with top pizzas. Address

:

Carrer de les Sitges, 6

. Phone: 933 17 99 25.
Mamacafé

: another place where you can find a home made and affordable menu in Raval. otro Address

:

Carrer del Dr. Dou, 10

,  Phone: 932 10 00 50.
La Rosa del Raval

: Classical Mexican restaurant for dinners specially but also with a good lunch menu quite cheap. Address

:

Carrer dels Àngels, 6

. Phone: 933 04 26 81.
Directly to Coworkidea
We love eating out and explore new bars and restaurants in the area, but we also like to eat and share in our coworking space. It doesn't matter if we bring a tupper from home, or trying and sharing recipes through cocooking or with the meals that other companies bring us. We just have to call 😉
Tomillo

: with their complete super healthy bowls and their wraps, it is ideal for eating very clean but also to enjoy of the good food.
Fedd Well Kitchen

: high quality vegan salads elaborated with lots of love, very homemade and recommendable.
Fotawa

: balanced recipes made by chefs. It is a home service very quick and effective.
L'olla Framir

: we recommend specially their food to take away because it can't be more homemade and cheap, you can eat two dishes for 5€. We are officially and openly fans. Address

:

Carrer d'en Xuclà 19

.
Map of restaurants in the centre of Barcelona
With this post, it is more than proved that in Coworkidea we are very privileged. We can enjoy of a wide ranging and qualitative offer of one of the best pleasures in this life: eating. 🙂