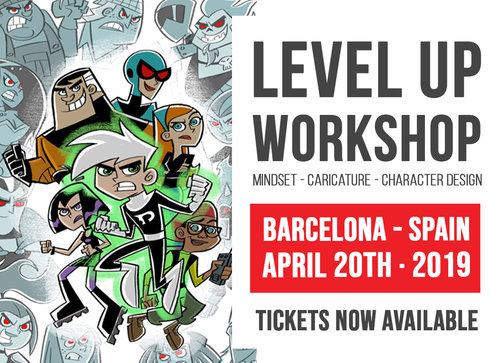 Workshop Level Up with Stephen Silver
28/03/2019
About the workshop:
Join Stephen Silver (Disney, Sony Feature Animation, Nickelodeon, Warner Brothers) for a special workshop to help push and inspire a new wave of creativity along your journey with fun exercises, useful techniques and a new perspective to take you to the Next Level.
Designed for all levels of artists, this workshop will help you develop your drawing skills, understand the character design process, believe in what you want to achieve and discover your self-worth.
Whether you end up doing design, illustration, comics, animation or storyboarding, you'll learn useful techniques to stimulate creativity and solve problems. Stephen will advise you in your career path, show you how to design effective characters in all styles, build a portfolio and a positive attitude to achieve greater enjoyment out of life as a creative.
Schedule: 10-am – 5pm. The journey of getting started, Constructing the process, Breaking down Character Design, Creative drawing exercises, Caricature,Building a strong portfolio, Q&A.
Location: CoworkIdea. C/ Torres i Amat 21, 1º – 08001 Barcelona
Materials: Please bring copy size or larger paper or sketchbook for drawing and note-taking.
Registration:$150 per person. Attendees will provide their own transportation, lodging and meals.  A 100% deposit is required to reserve a space. (Locations to be disclosed soon)
After you purchase your ticket, we will email you confirmation and a link to join our private Facebook group to get the conversation started.
The group is great because it's an easy way to share information relevant to the workshop,  updates, ask questions and get to know the other attendees before the event!