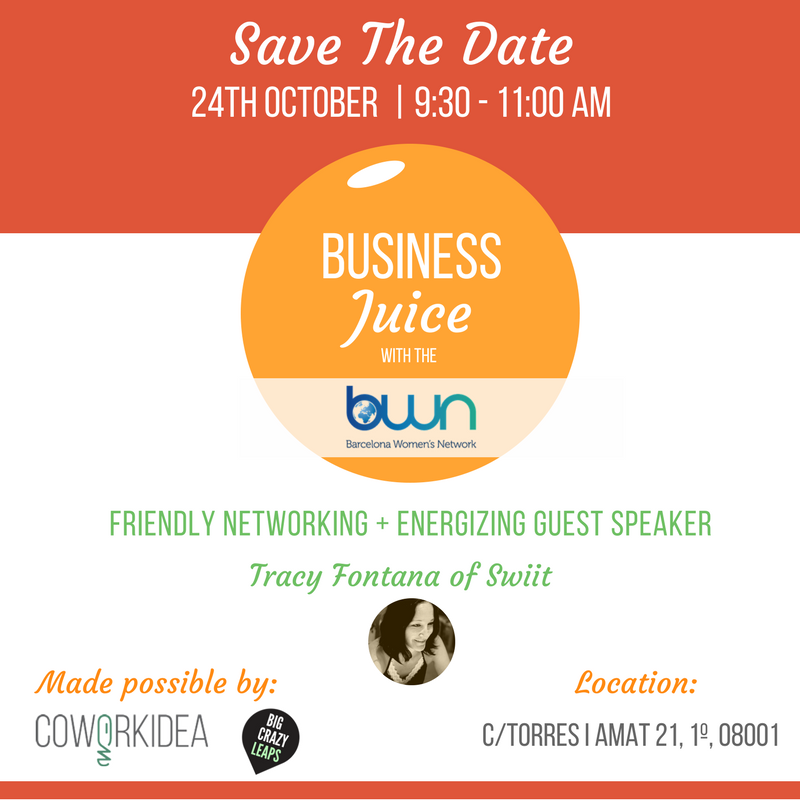 Business Juice with the BWN
23/10/2017
BUSINESS JUICE with THE BWN mixes friendly networking with short, smart talks for Barcelona's expat 'preneurs (entre, micro, solo, budding). This event will be hold next 24th of October from 9:30h to 11:00h at Coworkidea coworking space and includes an energizing guest speaker and a light breakfast with loads of coffee and orange juice.
GUEST SPEAKER: Tracy Fontana of Swiit will talk about her bold leap from between-businesses expat/entrepreneur with ZERO experience in the food industry to co-proprietor of an organic gelateria in the Gotic that has become a neighborhood destination and received rave reviews in its first year of business. If you're mulling a business idea but don't think you have the chops or credentials to pull it off, Tracy's story might nudge you to think otherwise.
RSVP you can book your seat here (space is limited), and confirm your assistance as well at the Facebook event here.
ENTRANCE FEE: 5€ payable at the door. All proceeds benefit two local charities, Mujeres Pa'Lante and Fundació Concepció Juvanteny.
————————–—-
ABOUT THE HOST: This event is organized by the Barcelona Women's Network (BWN), a social group with a social purpose and a hub for international women in Barcelona for nearly 20 years.
MADE POSSIBLE BY: Business Juice is supported by Coworkidea.es where digital/creative professionals #makeideashappen and Big Crazy Leaps, a storytelling project about unexpected risk takers.
(If you would like to know more about becoming a sponsor for this event, please send an email to networking@bcnwomensnetwork.com.)