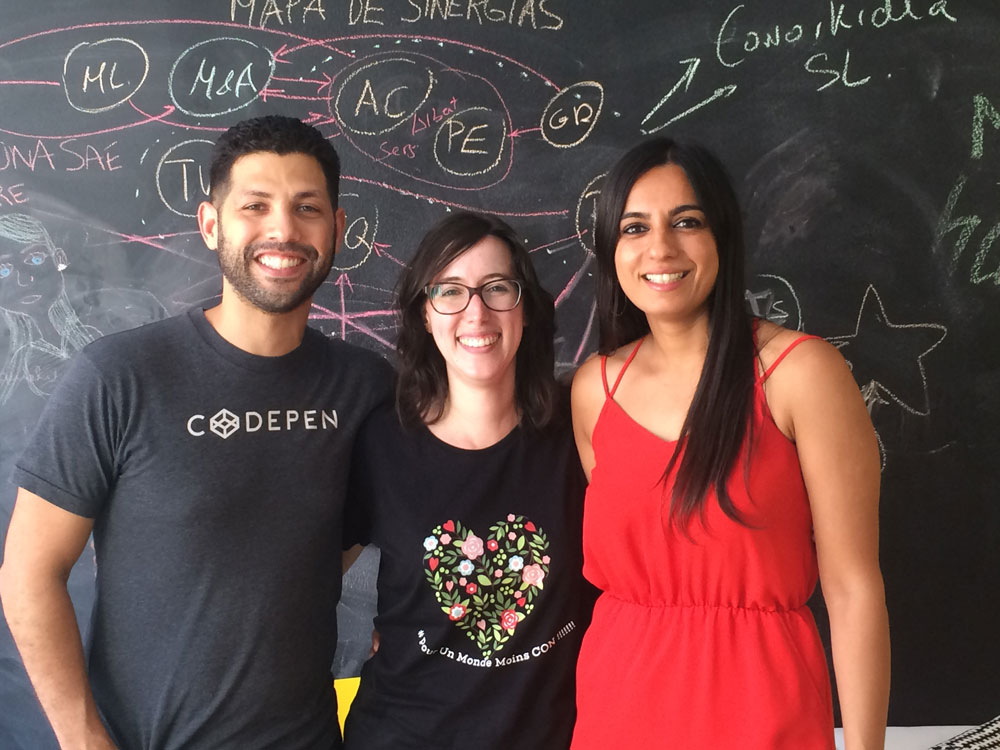 Supercoworker: Erin Douglas
29/09/2017
There is a coworker or as we call in Coworkidea, a "happener" who gained specially our affection, we simply love her. Even she was part of Coworkidea's community just for a brief time, we wanted to share this interview/conversation we had with her (she is the one on the middle, between Alex and Dee).
Tell us a bit about you and your professional background…
I'm American and I've been living in Paris, France for the past 12 years and actually working all that time for the same company, a French IT consulting company called Softeam Group. Back in 2005 I was hired to create an in-house language training program for the engineers in the company to help them communicate and interact on multicultural teams. This was around the time that the major French banks were starting to globalize and open offices around the world. This language training program became the most popular training program within Softeam and in 2012, we commercialized and started attracting corporate clients in financial services and IT and our internal training program became a commercial business line for Softeam.
Tell us about the project you were developing while in Coworkidea.
In March of this year, some friends and I started developing a civictech web application on the side called CitizenVoice that connects residents of a city to their elected representatives. When a resident wants to voice his opinion about something happening in the city, he creates an issue (like a ticket) on the application and assigns it to a specific politician. The politician gets notified that a resident has asked for their opinion about this issue and can respond on the application. This is all public, anyone can go on the application and see what issues are being created for their city and neighborhood and what the politicians' responses are. We decided to launch CitizenVoice citywide in Barcelona on September 12 as a proof of concept and I came to Barcelona in August to help prepare for the launch.
What personal and professional benefits do you think a Coworking space can bring?
When I first came to Barcelona, I tried working out of my apartment and Starbucks and it didn't really go so well. It's hard to concentrate in your own apartment and you can stay maybe a couple of hours in a Starbucks or coffeehouse without feeling like you're taking up table space. The other thing that drove me to a coworking space was wanting to meet other people, especially internationally-minded people.
Tell us about your experience at Coworkidea.
I was looking for 3 things in a coworking space in August – air conditioning, cool people and a central location along the L6/L7/S1/S2. Coworkidea had all 3 and then Alba Comadran, the [the Communications Manager of the space], really sold me on the place by suggesting all the different ways they could help promote the launch of CitizenVoice. CitizenVoice went live on September 12 so if you'd like to send a message to your representatives in the Barcelona city council, go on the site and create an issue – www.citizenvoice.io!